If you are receiving a server error message please try the fixes provided below to get you back up and running with SurfEasy
Please try changing your region in the application
It is possible that there could be an issue with the server you are currently connected to. If this is the case please try changing the region to connect to another server
Step 1: Tap on the Menu
Step 2: Tap on "Change Region"
Tap on the region that you would like to try connecting to. After tapping on this region the application will attempt to connect to this server.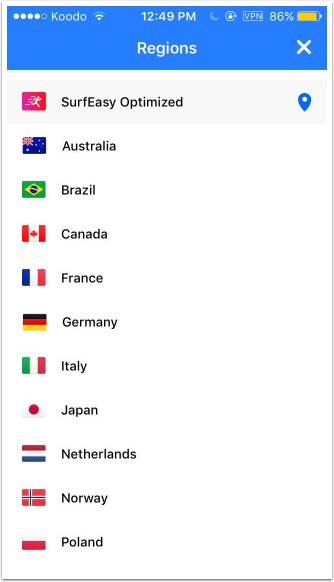 Please try reinstalling the VPN profile
Step 1: Tap on the Menu
Step 2: Tap on "Help"
Step 3: Tap "Reinstall Profile" and follow the prompts on the screen.
The prompts may ask for your passcode or Touch ID for your device. You will need to provide these when you are prompted to allow the profile to be reinstalled.
If the issue persists after following the instructions in this guide please contact support at support@surfeasy.com or at the number below:
USA & Canada: 1-888-743-8102
UK: 0800-011-9492